Roof Cleaning Services in Sarasota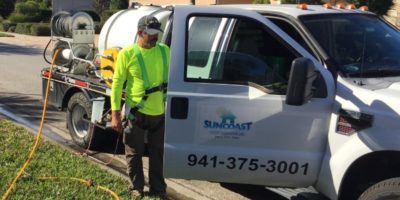 Professional services by professional people
One should always demand a high level of service quality when engaging with professionals, we take great pride in our work and our main goal is to become your first choice in your search for a roof cleaning service in Sarasota County.
We have the knowledge and we are more than willing to spend the necessary time to educate our customers, as we believe that an educated customer makes an educated decision on how to approach the burden of maintaining their property and keeping up its value.
You should always protect yourself and your property by demanding the minimum requirements to be held by a professional. We carry a General Liability Insurance to work on roofs, up to three story high buildings and workers comp. Don't settle for less.
Get your Free Estimate
We provide all of our customers with free estimates. All you have to do is to schedule an appointment, for us to inspect the site and get a better idea of your needs.
What our customers have to say about us
" Dealing with Suncoast is a real pleasure! They are real professionals who "go the extra mile" to make sure the job is done well. I will definitely be calling them again and highly recommend them!

> Janice W.
" Very professional. They came on time and did a beautiful job. All my plants and bushes were covered, and much care was taken. My roof never looked better. I highly recommend them !!

> Suzanne L.
" Suncoast Roof Cleaning exceeded my expectations! They were on-time, thorough, personable and completed the job in a timely fashion! Outstanding experience!

> Patty M.
" Knowledgeable team that goes out of their way to make sure your property receives the best care possible. The best part the roof looks great and we now have a plan to keep it looking great year after year. They over delivered on my value proposition and I couldn't have been happier with the results. I HIGHLY RECOMMEND this team.

> Michael H.
" We just had our pool lanai pavers (about a 1,000 s.f.) cleaned and sealed by Suncoast and couldn't be more satisfied. The owner, Martin, is by far one of the most knowledgeable to date, he explained thoroughly the process and the cost. Suncoast is top shelf, they pay attention to detail, are courteous, professional and man do they know their stuff! Thank you for making our Lanai area look like a million bucks!

> Barbara C.
" Very hassle-free experience! Great service, on-time, and very thorough cleaning job. My roof looks like new!

> J.W.
" The job was done with professionalism, attention to details, and of the highest quality. It is always a pleasure to deal with a person of integrity and who dedicates himself to a job well-done.

> Joyce C.